Privileged access management
ZECURION PAM KEY COMPONENTS
Key infrastructure credentials vault
Session manager and control
Archive of sessions and convenient reports
VISUAL SESSION MONITORING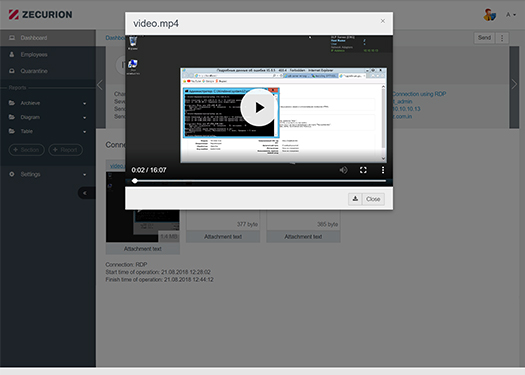 Zecurion PAM records sessions of privileged users as video. Sessions can be watched right in the console
FULL CONTROL OF ALL ACTIONS
Ability to connect to the ongoing user session
Ability to break ongoing sessions
Archive of all events, actions and commands
EASY TO INSTALL AND CONVENIENT TO USE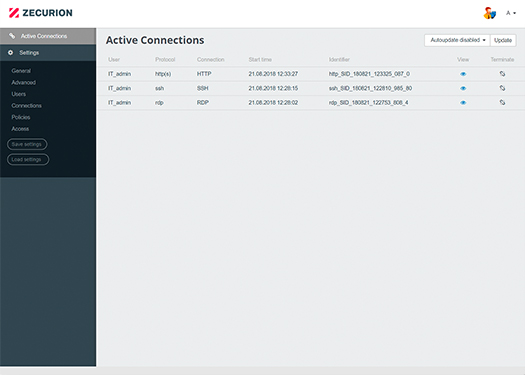 Implemented in enterprise-level network in 2 days
Agentless architecture
Platform-independent solution
Simple and user-friendly web-based management console
ZECURION PAM CONTROLS ALL POPULAR REMOTE CONTROL PROTOCOLS
ARCHIVE OF ALL PRIVILEGED USER ACTIONS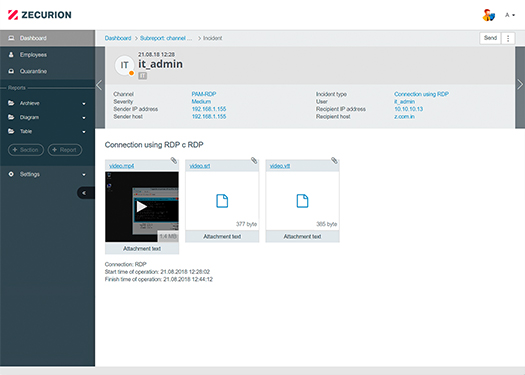 All sessions in one place
Browse video and text commands
Interactive tools for incident investigation
Legally significant evidence for bringing insiders to justice
ZECURION PAM CAN CONTROL EVERY CATEGORY OF POWER USERS
ZECURION PAM MONITORS THOUSANDS OF ENTERPRISE SYSTEMS AND DEVICES
Windows servers, including Active Directory domain controllers, database and file servers, etc.
Any servers and workstations running Linux
Business applications, including CRM, HRM, ERP, etc.
Network equipment, including routers, switches, Wi-Fi points, etc.
Hardware and software security systems, including firewalls, IDS/IPS, SWG, proxy, etc.
Video surveillance and access control systems
Sensors and automated control systems, IoT elements, etc.
SaaS, PaaP, IaaS services, including Microsoft Azure, AWS, Google.Drive, Dropbox, etc.
IT management systems such as ITSM, ITFM, SD, SLM, etc.